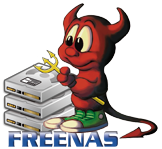 Ok, so I started sourcing the parts for my new build and realized I had a few more decisions to make before I pulled the trigger on this build.  I had already roughly calculated how much space I wanted/needed. I needed to decide on some of the more technical aspects of the build, like what type of boot drive/system was I going to use, how big should it be? Do I need a gigabit network adapter and if so what kind should I get, will it support jumbo frames and do I need to invest in a server class NIC for ultimate reliability? Luckily for me some of these decisions were made for me when I opted to buy the somewhat gutted Dell XPS 400 from my co-worker. It already came with a gigabit network card onboard, 1GB RAM and SATA ports. It also only had room for (4) internal hard-drives.
I decided I'd just hit up my favorite online retailer and see if I could source all the parts I needed new from them and get what I couldn't there, on eBay. Here's what I ended up with as the foundation of my FreeNAS build:
Dell XPS 400 Tower with built-in Gigabit NIC, 1GB RAM, 3.2GHz P4 Processor. $50 US.
Cheap-o PCI-X video card I had laying around (the mobo didn't support AGP). FREE
Adaptec 2610SA SATA RAID card from eBay, I paid $41 US for it.
Lexar 2GB 80X CF card from eBay, got this gem for $15 US.
(4) Western Digital WD5000AAKS 500GB hard drives from Newegg.com (59.99/each) $223.96 US for all drives.
SYBA SD-ADA40001 SATA II To Compact Flash Adapter from Newegg.com. $15 US.
So my total for this build was a cool $344.96 US. Given the amount of space I'm getting and the quality of the hardware, I don't think I could have found anything prebuilt/off the shelf that would come close to this build. Not to mention the satisfaction of sourcing all the parts and building it myself.
In my next post, I'll go over the actual build and configuration of the FreeNAS software as well as my first impressions of the finalized solution.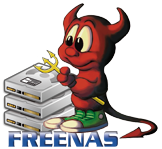 I've decided it was time to get back to the roots of my geek and setup my own FreeNAS system for the house. I've been using Mozy at home and it backs up my primary PC just fine but it's seriously lacking in features that could make my life easier, not to mention it's $$ each month I could be saving! Some of the shortcommings of my current solution (Mozy) is it doesn't back up any of my laptops, it doesn't download torrents in the background and it doesn't sync my iTunes library. These and more features are built in with FreeNAS.
I picked up a nice XPS 400 case/MB/CPU/RAM from a co-worker and started the search for all the other goodies I would need to build my new NAS. After much reading, I decided I'd go the route of installing the FreeNAS software on a compact flash drive hooked up via SATA. It's super fast, more reliable than CD and seemed like one of the more common methods of installation.
As for the data storage, I opted for an Adaptec 2610SA SATA RAID Controller with (4) Western Digital 500GB SATA drives. I'll be running these in a RAID 5 configuration which should yield just over 1TB of disk space. 1TB of disk space should be plenty for my needs for the next few years, I would suggest you take a serious look at your data storage needs before building your own, plan for the future as upgrading is possible but why bother, plan ahead!
To date, I haven't gotten all the parts in yet, once I do I'll post my build with pictures of the build process for everyone.
Being a .Net developer, I figured I needed to know how to get my applications to talk to the Ardunio board via the USB serial port. Took a few hours to get the Ardunio code working, but here is the final results.
I setup a simple VS2008 C# project (you'll need to modify to compile with VS2005) to turn a LED on and off by clicking a button on the form. You'll need to change the hard-coded COM port to the correct one for your setup and hook up the LED (don't forget your resistor) to the digial PIN 12 on the Ardunio board.
 A few things to note: 

I'm using a fixed char command "INLENGTH" which will need to be updated if you wish to increase the command char length.
I've used # to pad the command when I don't have a 6 char command.
LED must be on digital PIN 12 (you can change this in the code of course).
COM port is hard-coded in the .Net code for my setup, change to correct COM port on our computer.