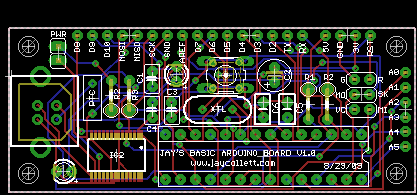 Ever since I started playing with the Arduino I knew I wanted to get futher into how they worked and even start forging ahead with my own designs. Fortunately there is a fantastic community of folks out there who are more than willing to share their knowledge and even blog about it. I owe the community a great deal of thanks in helping me get up-to-speed so quickly on designing and laying out boards for my projects. I have been working feverishly on a new project which I'll dedicate a whole category on here for later. It's really going to be a neat project and I think it's a great way to give back to the community by relasing all my work for anyone to use. Anyhow, more on that later.
EaglePCB, how can I say it. It's freaking amazing. Who could ask for much more with a freeware PCB board layout program? I'm actually in the process of purchasing the Non-Profit version so I can build bigger boards. That being said, the freeware version will do everything the paid version can do but is limited to double-sided boards and limited board size. It really is a neat program and definitely helps people get started with PCB layout cheaply.
For now I wanted to share with the community just one of the boards I've finished and am awaiting arrival of the fabricated board. I released it to get feedback and hopefully help somone else out. It's taken from the Boarduino concept from AdaFuit.com. Basically it's a very basic USB powered Arduino board which can be integrated easily into other projects. I'll be using this board on my new project. I'll warn you of this, I haven't received the fabricated boards from BatchPCB.com yet and tested them throughly so you've been warned. You'll find the board and schematic in the attached ZIP file. I've used parts for the SparkFun.com library. None of this would be possible without those fantastic guys!
Please, I encourage feedback on this design!