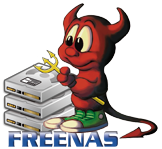 Ok, so I started sourcing the parts for my new build and realized I had a few more decisions to make before I pulled the trigger on this build.  I had already roughly calculated how much space I wanted/needed. I needed to decide on some of the more technical aspects of the build, like what type of boot drive/system was I going to use, how big should it be? Do I need a gigabit network adapter and if so what kind should I get, will it support jumbo frames and do I need to invest in a server class NIC for ultimate reliability? Luckily for me some of these decisions were made for me when I opted to buy the somewhat gutted Dell XPS 400 from my co-worker. It already came with a gigabit network card onboard, 1GB RAM and SATA ports. It also only had room for (4) internal hard-drives.
I decided I'd just hit up my favorite online retailer and see if I could source all the parts I needed new from them and get what I couldn't there, on eBay. Here's what I ended up with as the foundation of my FreeNAS build:
Dell XPS 400 Tower with built-in Gigabit NIC, 1GB RAM, 3.2GHz P4 Processor. $50 US.
Cheap-o PCI-X video card I had laying around (the mobo didn't support AGP). FREE
Adaptec 2610SA SATA RAID card from eBay, I paid $41 US for it.
Lexar 2GB 80X CF card from eBay, got this gem for $15 US.
(4) Western Digital WD5000AAKS 500GB hard drives from Newegg.com (59.99/each) $223.96 US for all drives.
SYBA SD-ADA40001 SATA II To Compact Flash Adapter from Newegg.com. $15 US.
So my total for this build was a cool $344.96 US. Given the amount of space I'm getting and the quality of the hardware, I don't think I could have found anything prebuilt/off the shelf that would come close to this build. Not to mention the satisfaction of sourcing all the parts and building it myself.
In my next post, I'll go over the actual build and configuration of the FreeNAS software as well as my first impressions of the finalized solution.