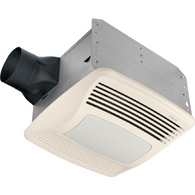 I was at Lowes a few weeks back to exchange out our propane tank and pick up a few misc items and as I walked up to the store I couldn't help but notice they were having an annual clearance event (never knew they had one). Anyhow, the isle ways were full of junk and most of it was pure junk but I thought I'd find some little golden nugget in the piles of junk somewhere...
That's when I noticed this sitting on top of some busted doors. The box was ripped open but after a quick examination it appeared to be not only fully intact, but no missing parts (even had the owner's manual). With no price listed, I asked one of the sales associates and he said that this was not supposed to be on clearance because they still stock them but he'd give it to me for 60% off. 2 scones and 140CFM,  SOLD! WOOT! Not sure we need one but I think my wife will appreciate it, she always gets upset that she can't stay in the bathroom to do her hair while I'm in the shower because the bathroom quickly builds up with steam.
It'll be a few more weeks before I can get this project off the ground, I've been researching already but I have to work the next few weekends so all my plans are on hold...bleh.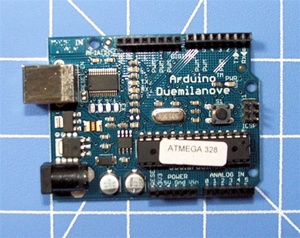 A few weeks back my wife decided to send me a link at work with some DIY doggie stairs project. A subtle sugestion I think to get me to add this to my list of DIY pojects...in all honesty I figured this was just the project to get my mind of the madness of work. Besides, it would allow me to fire up my lovely collection of power tools, I decided right then to move this project to the top of my list. I headed out to Google to research (as I do with all my projects). After a few hours reading through the numerous DIY doggie stairs projects I found one here that I thought I'd use as the framework for my project.
You'll quickly see why I chose this one to base my project off of. It involved electronics! I very quickly dismissed the idea of using the motion dector he used, too bulky, too hack-n-slash and not challenging enough for me. I decided to go about building it from scratch. This is when I got re-introduced to the Wonderous Arudino Board.
I say re-introduced as I had read about these a few months earlier but was far too pre-occupied with one of my other hobbies (metallic reloading). These things are amazing, I've opened up a whole universe of learning with this one...