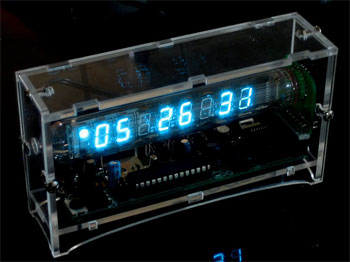 image curtesy of Adafruit Industries
I've always loved when things old and new come together to form something new and interesting. I think that's the best way to describe my new Ice Tube clock from Adafruit Industries. They've managed to mix an old eastern bloc VFD (vacuum fluorescent display) with modern electronics to form a wonderful desktop clock. Not only is this clock a fantastic conversation piece it's highlighting an amazing piece of electronic history, the VFD.
I actually decided to get this kit for myself as I've been researching building my own desktop clock using 7-segment LED displays. When I stumbled upon this kit, I had to have it. So for now, I've put my design on the back-seat and settled on hacking this thing! Stay tuned for more...
Enjoy this article?