Anyone who knows my wife knows that she loves to "fall-ify" as much as she loves to decorate for Halloween! This year I found an example using LEDs to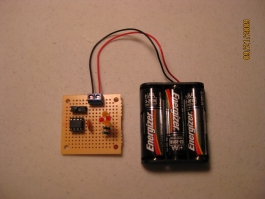 simulate a flickering fire. I decided this would be perfect to put inside our jack-o-latern and as soon as I got home today from work, I whipped up a working version for myself. I've attached a ZIP file which contains a few high-res pictures and the embedded C code you can use to program any AVR. I've used an ATTINY13A for this as I have a bunch laying around and they work perfectly for this project. They are also very cheap, I got mine from DigiKey for .87 each. The whole project cost me about $3.50 excluding the batteries. I think I may expand on this design a bit to include a photo-transistor and a small solar panel to only turn the circuit on at night and recharge the batteries during the day...Once I get the updated version, I'll update this post. Check out the video below of the LED Fire in action!
[youtube]OhWhZjwBKAQ[/youtube]
Enjoy this article?