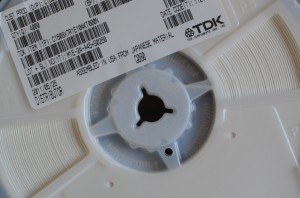 I've never really "stocked" up on parts for my projects as I always just ordered the minimum parts I needed for each project. I guess I did buy the pack of assorted resistors from Radio Shack back when I first started working with electronics. Identifying the parts I used the most and buying them in bulk up front never was something I had given much thought to, well, that is until I read this blog post from the guys over at Dangerous Prototypes. They blog weekly about parts and how they use, source and stock parts for all their work. I guess that's what it took to finally realize I could save myself some serious cash and even some time buy identifying the parts I use the most, determining a standard package type for them and buying them either by the reel or in large quantities.
I've started doing more and more project with SMT only parts so I knew I really wanted to stock only SMT parts for now. A quick search on eBay netted me a few "kits" for resistors and capacitors in the 0805 package which is what I really wanted to standardized on for all my passives. I like the fact that I can get standard 1/8 and 1/10 watt values in addition to 1/4 when I need it in this package and the cost is minimally more than the 0603 package in most cases. I also picked up a few storage boxes for all those tiny parts, highly recommend them! Finally I made a few orders to Mouser and DigiKey to start stocking up.
I ordered 4,000 .1uF ceramic caps from Mouser (actually got 0603 package for these as they were the right price and 0603 isn't much harder to work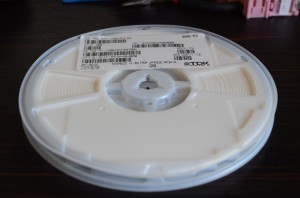 with than 0805), got the reel for $12. Should never need decoupling caps again! I ordered 50 ATMega328's and 50 ATTiny2313's from DigiKey and 500 each of the standard 0805 resistors in 1/8W 0805 package.
The kits I got from eBay helped fill out the voids in the values for my cermamic capcitors and resistors. I think I paid a total of $50 for both kits and shipping, way worth the price.
Enjoy this article?