I think it's probably a name most folks in the hobby electronics world already know, but if you have no idea who PanaVise is, you should! PanaVise is the company that makes the most amazing vises and holders for all kinds of things. They have expanded the product lines over the years to include all kinds of mounts for nearly any gadget or gizmo you could ever want mounted. I think the best thing about PanaVise besides the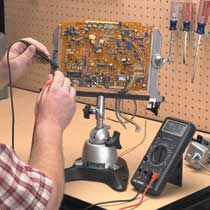 fantastic high-quality products they make is the folks that work for them, what a great group of employees they have!
I got an email today from one of those great employees letting me know they were throwing a little contest on Facebook to promote their product page and the prize is apparently gonna be pretty cool! All you gotta do is post a picture on their Facebook product page of the most creative use of your PanaVise project and you could win. I'm all for free stuff, especially when it comes from PanaVise.
Folks who are just starting out in electronics always ask what is the "must haves" regarding equipment, well I'd immediately say a high-quality, sturdy vise. Specifically the PanaVise models, either the 201 or one of the 3 series. I bought my 201 vise and 308 weighted mount from AllSpec about 5 years ago and I haven't worked on a single project since that didn't utilize it. The only gripe I had about my beloved 201 was the time it took to screw the jaws in and out. Well, PanaVise was paying attention (the president of the company no less) when a very smart gentlemen created a home-brew solution. In fact, they worked with him to create an even better version and now they sell them for folks who already own a 201. Now that's listening to your customer base! If you work on electronics, do yourself a favor and pick up one of the PanaVise vises, you won't be sorry you did.
Sadly, my Amazon wish list does have a few PanaVise products on it that are still marked as "Not Purchased". I really want the low profile 305 model with another 308 weighted base. My wife purchased me the 315 circuit board holder thinking it'd work with my 201, but alas it doesn't.
I have not received any sort of compensation for writing about these guys, when a product works as well as the products they make, it's no effort to blog about how great they are!
Enjoy this article?